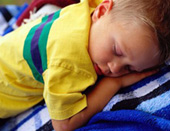 Differences in definitions of normal and short sleep durations varied substantially across studies. Among children ,short sleep duration was defined anywhere from <8 to <11 h per night ( Int J Obes Relat Metab Disord 1992;16:721). In adults, the definitions of normal sleep duration ranged greatly from at least 6 to 9 h per night (Diabetes care 2001; 1:24).

Evidence has grown over the past decade supporting a role of short sleep duration as novel risk factor for weight gain and obesity. A number causal pathways linking reduced sleep with obesity have been posited based on experimental studies of sleep deprivation.chronic partial sleep deprivation causes feeling of fatigue which may lead to reduced physical activity (sleep 1997;20:267 and Am J epidemiol 2006;164:947).

Sleep deprivation may also have Neurohormonal effects that increase caloric intake (Ann Intern Med 2004;141:846). A recent systemic review published in obesity journal volume 16 number 3 at march 2008 by Sanjay has posited that short sleep duration appears independently associated with weight gain which is related to increased ghrelin hormone and decreased leptin hormone.